What's new Santa Fe
Summer means "Nuevo" at Santa Fe, as we unveil all the new treasures we've discovered over the winter months. Some of this year's finds include:      
Liberty Black boots for women
Handmade boots from Mexico that are sure to be a show stopper!
OLOVESM Bags made from recycled yoga mats. Functional-Unique-Hip-Sassy bags made in the USA!
Eco-friendly lamps perfect to light up your home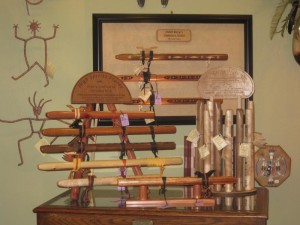 High Spirts Flutes was founded by Odell Borg in 1990. His mission was and continues to be, to spread the beauty and joy of the native flue through the world. High spirts has been a forerunner in environmentally conscious craftmanship of musical instruments. Odell uses only plantation grown woods and recycled lumber and non-toxic finishing materials on his handcrafted flues. Odell's workshop, located in the grasslands of Patagonia, Arizona, emplys local craftspeople, and in a small way, helps sustain the community.  High Spirits Native flues are played in concerts and on recordings by Grammy winner Bill Miller, multiple Nammy award winner Douglas Bluefeather, and High Spirts recording artist Travis Terry, among many others. 
  Eye Bobs are fabulous readers for the irreverent and slightly jaded. They are Handmade from top grade Italian plastics and offer flexible hinges to keep frames comfortably in place. There are many colors and styles available to choose from for men and women.
What Lies Ahead…
This winter, consider a Southwestern influenced Holiday! We have birch bark ornaments, miniature artifacts, and hand painted tin to decorate your tree. Deck the Halls with chili pepper lights; available in red, green or multi-colored. They look great with evergreens!